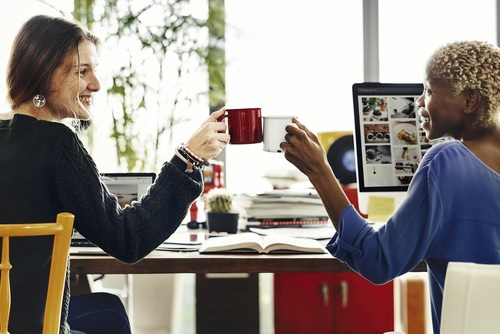 Entrepreneurs understand the value of a having a team that is highly collaborative. When starting a new business, every employee has to be on the same page — a task that is increasingly difficult if your team works remotely, as many start-ups do. Without the forced face time that comes with a traditional office, how do entrepreneurs promote collaboration among employees? Luckily, as the number of remote workers has risen, over 80 percent between 2005 and 2012, there has also been an increase in helpful collaboration tools for all kinds of workplaces. For truly effective collaboration, though, you not only need to choose the right tool, but you also need the right equipment and a culture that encourages openness and sharing.
Essential Equipment
Start with the basics — the equipment. Even the most amazing collaborative software will be ineffective if it is not paired with good hardware. For remote employees, a smartphone is the most important tool you can provide. Pair a good smartphone with affordable, unlimited coverage that won't stretch your budget and will allow your team to use the other collaborative tools you decide to employ with no restrictions. In addition to a smartphone, your team will need heavy-duty laptops with video capability and fast and reliable internet access.
Choose a Collaborative Tool
The right tool for your team will depend on the nature of your business and the size of your team. You want whatever system you choose to be able to function fully as an app on a smartphone or on a laptop or desktop. Here are four of the best workplace collaboration tools.
a) Slack – Slack, and its competitor HipChat, are real-time communication apps. The Slack app allows team members to message each other, screen share and video conference. Slack stores and archives conversations so that they can be retrieved later easily with relevant hashtags. For many businesses, Slack is used in place of email.
b) Dropbox – Dropbox is a filing sharing app that allows team members share and edit files and documents in real time from any device.
c) Asana – For a more robust workflow system, Asana is hard to beat. PCMag gave it their Editors' Choice award, and use Asana as their internal project management system. Among many other customizable functions, Asana allows users to break projects into tasks, assign tasks to the right team members, monitor progress and communicate at every step. Asana also integrates with other platforms like Slack for communication and Dropbox or Google Drive for file sharing.
d) Igloo Software – For an all-in-one collaboration tool suitable for a smaller business, check out Igloo Software. Igloo is a pre-built intranet system with features including real-time communication, forums to discuss specific projects, task management templates and file sharing. While not as slick as other intranet systems, Igloo is intuitive to use and easy to set up.
Create a Collaborative Culture
The truth is that no collaborative software system is going to be effective if you don't put in the work to create a culture of collaboration. Effective collaboration happens when teams brainstorm openly and feel comfortable discussing and questioning ideas in a non-judgmental way. For this to happen, you need to actively encourage regular interaction with programs like mentorships, staff retreats and regular meetings to share successes and shortfalls.