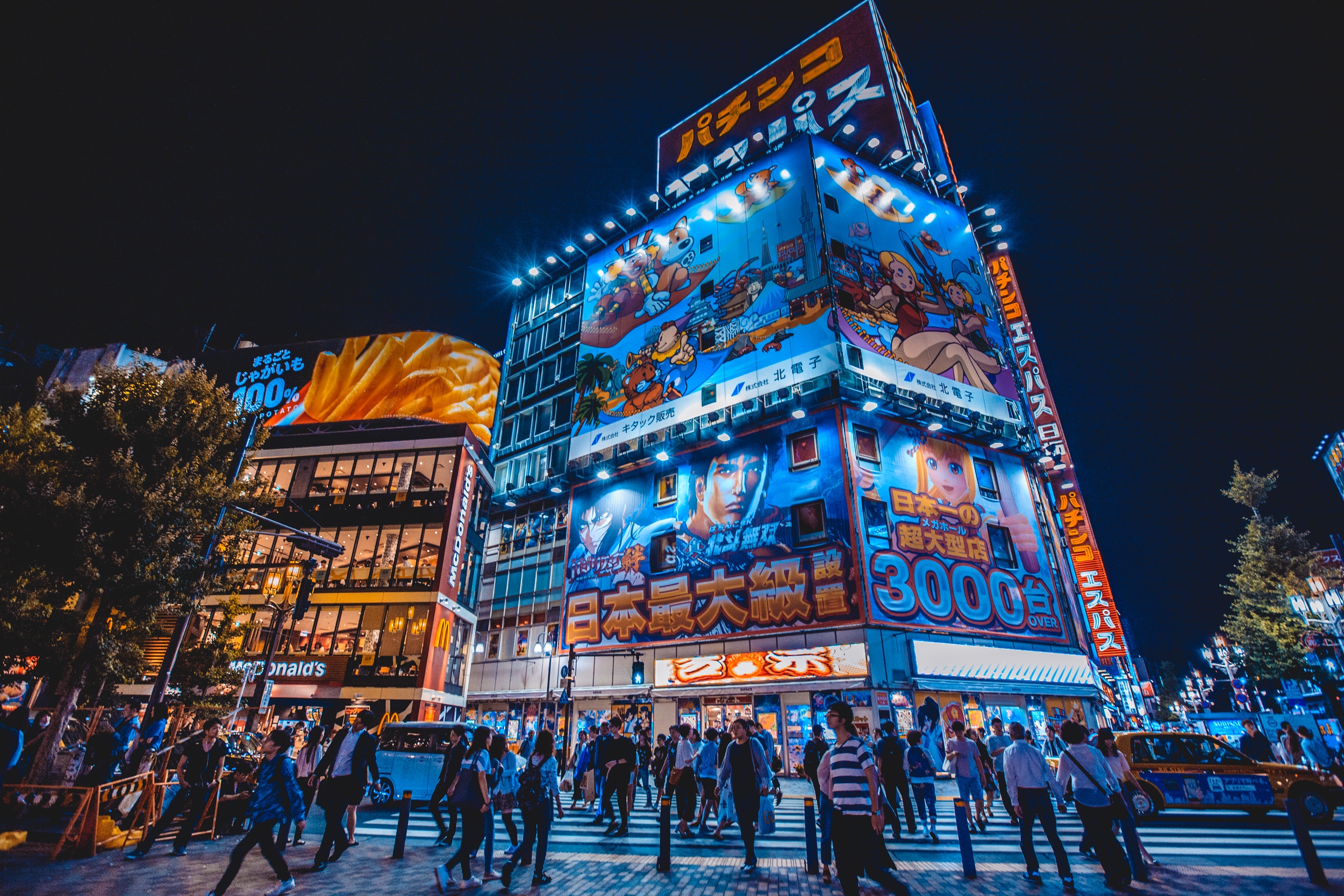 Japan, the land of the rising sun. A country famous for its sushi, bonsai trees and exposing Anime to the wider world (for better or worse) possesses another hugely valuable industry which doesn't feature prominently online or in most westerner's travel guidebooks. Which is particularly strange as it is extremely dynamic in sound and visuals. Also, considering there are 10,600 facilities scattered all over the country, ensuring it is difficult to miss when taking in the sights of the local towns or cities.
This is the very loud and unique world of Pachinko. Where 1 in 10 of Japan's population regularly fills the country's many Pachinko parlours. In a sight somewhat reminiscent of a slot machine area of a casino. Players are transfixed on the flashing visuals and unexpected sound effects and montages. The constant deafening noise generated by metal ball bearings colliding with anything that gets in their way has been forever associated with feeling the thrill of trying one's luck. Pachinko has been a part of Japanese culture for generations.
Although technically a form of gambling, Pachinko is officially classified by the Japanese Prime Minister as a hobby or pastime. This is despite players paying for the use of an interactive arcade game where expensive goods and cash prizes can be won. While gambling has been illegal in Japan for an extremely large period of time, the landscape has changed dramatically in recent years. As attitudes have softened and helped by considering the potential boost to tourism as well as the Japanese economy. Gambling has now been legalised, while plans are currently afoot to build a number of casinos in integrated resorts throughout the country. Who are sure to capitalize on the massive popularity of this craze, by adding it to the host of current casino mainstays such as slots, roulette, blackjack and poker by the time the doors are opened to the public for the first time. However, with no plans to open a casino before the 2020 Tokyo Olympics, gaming and gambling enthusiasts in Japan are still able to get their fix by taking advantage of Japanese online casino Wunderino
Pachinko is a mechanical game, similar to pinball, and was originally sold as a child's toy in the early 20th century. Some years later it was snapped up by a number of shrewd sweet shop owners as means of ensuring the kids would remain in the premises to play, and ultimately resulting in them purchasing more candy to eat. It was during this period that it was assigned the onomatopoeia name of "pachi pachi" describing the snapping sounds made by the metal ball bearings.
During World War II, all the machines were scrapped for metal. It would be another decade before Pachinko would reemerge. With factories having a surplus of metal ball bearings as well as an entertainment sector desperate to be filled. Pachinko would take the country by storm and has dominated Japan's industry sector ever since. So much so, today Pachinko employs more people than the automotive industry and accounts for almost half of Japan's leisure activities.  
The object of the game is to ensure as many silver ball bearings disappear down the highest scoring holes, evading the many pins obstacles in their way. Triggering interactive segments and audio-visual experiences, potentially leading all the way to the goal of the many valuable prizes and cash wins each parlour has to offer. However, you can be sure that once the powerful casinos come into play, the value in prizes and most likely, the popularity of Pachinko will exponentially improve, ensuring this craze keeps it's hold on Japan…and who knows, it may even take on the rest of the world.